Patricia Dagorn: France's 'Black Widow' jailed for poisonings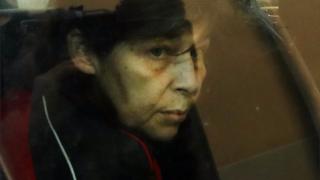 A woman dubbed "the Black Widow of the Riviera" has been jailed for 22 years in southern France for killing two elderly men and poisoning two others.
Prosecutors in Nice said Patricia Dagorn was a "perverted narcissist" who tried to enrich herself by seducing men she met mostly through a dating agency.
She allegedly asked most of them for money, or to name her in their wills.
The 57-year-old denied the charges. She was already serving a five-year prison term for fraud and theft.
After that trial, police reopened the investigation into the 2011 death of Michel Kneffel, a man in his 60s she had lived with in the city of Nice.
They discovered Valium tablets and a number of personal documents belonging to different men, including IDs, bank account details and health insurance cards, in her belongings.
That led investigators to another suspected murder case, that of an 85-year-old man, Francesco Filippone, who was found dead in a bath in 2011 in Mouans-Sartoux, near Cannes.
She had earlier cashed a cheque from him worth €21,000 (£19,000; $25,000). Dagorn said that money was a gift to help her open a jewellery shop.
'Ray of sunshine'
The two surviving elderly men, Ange Pisciotta, 82, and Robert Vaux, 91, joined the case as civil plaintiffs.
Mr Vaux told reporters Dagorn "was like a ray of sunshine in winter. When you are with a younger woman you know it won't last but you don't deny yourself the moment unless you're a masochist", according to AFP news agency.
Mr Vaux, who had brought Dagorn to live with him in early 2012, said his health soon deteriorated and his doctor told him he had been in "mortal danger". Dagorn was accused of drugging him with Valium while trying to steal his property.
Police believe Dagorn - who has a law degree - met at least 20 men between 2011 and 2012. In court, Dagorn's defence team described her as "not psychotic but psychopathic".
She had already been handed a one-year suspended prison sentence in a case involving her ex-husband who was found guilty of fraud, AFP reports.