Dublin Airport sets 30m passenger record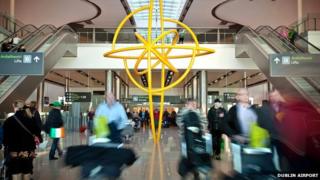 Almost 30m people passed through the Republic of Ireland's biggest airport in 2017.
Passenger numbers rose by 6% from the previous year - the seventh consecutive year of growth at Dublin Airport.
Traffic between Dublin and UK airports increased by 1%, with UK-originating numbers declining due to the weakness of Sterling against the Euro.
The airport has flights to 191 destinations in 42 countries operated by 47 airlines.
Economic asset
Since 2011, annual passenger numbers to the airport have increased by 58% from 18.7m to 29.6m.
Dublin Airport managing director Vincent Harrison said: "We saw growth from all of our major airline customers during the year.
"We are focused on attracting new airlines to Dublin and also on helping our existing airlines to grow their business here."
The airport claims to be one of the country's "most important economic assets", contributing 8.3bn euros (£7.6bn)to the economy annually, and supporting or facilitating 117,000 jobs.
Passengers from Northern Ireland make up about 1m of the travellers.