L'Ancresse Common fruit 'unfit to eat'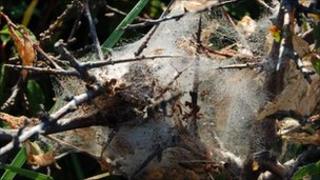 Blackberries and rosehips on Guernsey's L'Ancresse Common have been declared unfit for human consumption until 2011.
The announcement from the States came as spraying of bramble bushes continued to deal with a harmful moth.
The States head of plant pathology said the public must not pick any fruit.
Dr Terry Brokenshire said: "All fruit or vegetation on the Common should be considered as unfit for human consumption for the rest of the year."
He said: "Whilst there is signage to indicate the areas which have been treated so far the Common is a windy area and signs may occasionally be lost.
"It is therefore strongly recommended that the public do not pick or eat any fruit on any area of the Common as a precaution."
Dr Brokenshire added there should be no risk to dog walkers or pedestrians using the area once the vegetation had dried after being sprayed.
States Works have been spraying areas of vegetation on the common to reduce the numbers of Brown-tail moth larvae, which are feeding on them as they prepare to hibernate over the winter months in white cocoon silk 'tents'.
The chemical treatment is expected to significantly reduce the numbers of the caterpillars maturing to the adult stage next summer.
The adult caterpillars have brittle hairs that can cause itching and irritation for some sensitive people and may also affect those with asthma or other breathing difficulties.