Channel Islands ferry delays compensation given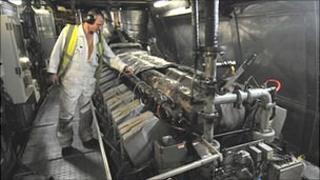 Condor Ferries has been compensating passengers affected by recent disruptions to services to and from the Channel Islands.
It follows weeks of disrupted services caused by mechanical faults on one of three high-speed ferries.
Ian Milner, general manager, said the company had a policy of compensating passengers where appropriate.
He said: "If the delay for the arrival is more than four hours we do compensate the passenger."
Simon Edsall, managing director, said islanders were prioritised when schedules were rearranged.
"I am keenly aware of the strength of feeling amongst island residents and am determined to make them our utmost priority.
"We have ongoing discussions with the relevant States departments about the measures that can be taken to reduce the impact of these technical problems on islanders and visitors, and are considering how to minimise the likelihood of future problems."
Maintenance work on the Condor Vitesse, which has been ongoing since September, is due to be completed next week.