Guernsey proof of age cards 'very popular'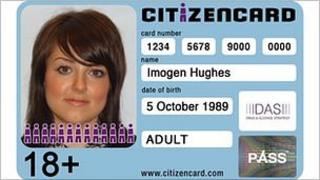 A growing number of young people are using CitizenCards to prove their age, according to Guernsey's drug and alcohol strategy co-ordinator.
Andrea Nightingale said 350 had recently been issued and by July there would be about 1,000 in use.
Adam Burroughs, Fusion Nightclub owner, said it was a good way for young people to prove they were over the age of 18.
Ms Nightingale said: "We want any young person who is 18 or over... to enter any licensed premises without fuss."
It is the second year of the five-year project.
Mr Burroughs said: "This is such a simple card for staff to read when young people want to prove their age.
"The PASS hologram is really important as this is the part that, at present, can't be forged so we know it is a genuine.
"It also has the 18+ in the corner and the photo is big so identification is easy."