Safety fencing installed on Guernsey cliff face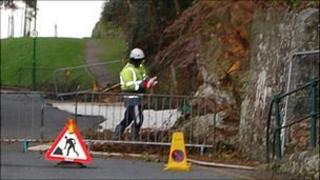 Fencing to catch falling rocks is to be installed to cover the cliff face on the inland side of the rock cutting at La Vallette in Guernsey.
Work is due to commence on 21 February to bolt safety netting over a 35m (38yd) width of the cliff.
The work is expected to last until 10 April and the road, which has been closed since 21 January for repair work on the cliff, will stay shut.
The aquarium, museum and bathing pools will only be accessible to pedestrians.
This will be via the cliff path from Le Val de Terres.
The Department of Environment apologised for the inconvenience caused to pedestrians, commuters and regular bathing pool users during the work.