Alderney lifeboat rescues five French fishermen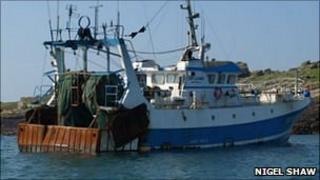 Five French fishermen were rescued from a life raft by Alderney's lifeboat after their boat ran aground.
The Trent class Roy Barker I was called out after a mayday call from the skipper of the 17m trawler Cap Lizard, who reported his boat was capsizing.
Launched at 0145 GMT the lifeboat was on scene within 10 minutes and the crew were recovered uninjured by 0210 GMT.
The trawler had actually run aground and was abandoned on Burhou.
The small island is half a mile off Alderney's north-west coast and sits in a Ramsar site.
The crew, one of whom was in shock, were landed at Alderney's Braye Harbour and taken by ambulance to the Mignot Memorial Hospital for check-ups.
At 0300 GMT they were transferred to the island's airport and then flown to Cherbourg by a French helicopter.
After the turn of the tide at about midday the trawler drifted away from the rocks and it was towed away from the area.
The tow was passed to the Mona Rigolet, a French lifeboat based in Goury, which towed the boat to Cherbourg.
Steve Shaw, the Alderney harbour master, said: "We are fortunate that a potential pollution situation in a Ramsar site, which is a highly sensitive and internationally recognised marine, wildlife and seabird area of importance, was averted."