Guernsey's ban on legal highs halves teen dependencies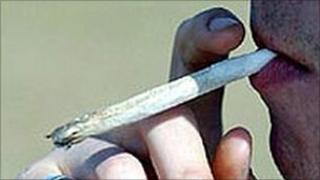 The number of teenagers in Guernsey needing help for their drug use has halved since "legal highs" were banned.
Products such as Spice, Juju and Mojo, which mimic the effects of cannabis or amphetamines, were defined as class B drugs in March 2010.
A year later, Tracy Rear, the manager of the island's drug counselling service, said teenagers had benefited.
She said: "Young people aren't reporting problems because they're not getting it. It's been cut in half."
However Ms Rear said the reduction was mainly in the smoking of cannabis substitutes.
"The older age group, who were already using class A drugs anyway... they're still using them."
The Guernsey Border Agency said it will act quickly if a new drug emerges which is harmful to the community.
A member of the agency sits on the European Union Early Warnings Group, which has a responsibility to identify such drugs.