Guernsey's equestrian events to resume after disease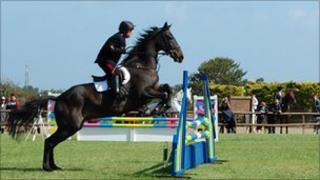 Equestrian events are set to resume in Guernsey following their suspension due to a contagious disease.
A case of equine strangles was confirmed on Monday 7 March in an animal which was brought to the island in February with three other horses.
Vets advised restrictions at stables but no further cases of the respiratory disease have since been observed.
If that remains the case, the British Show Jumping Association hopes to restart its competitions by mid-March.
Gillian Gorvel, the association's spokesperson, said its winter championships had been postponed because of the illness.
She said owners should still be cautious while tests continue on the island's horses.
"Don't let your horses nudge noses together," she advised.
"Once you've finished competing, you really ought to leave the ground as soon as possible."
Strangles is endemic in the UK and in mainland Europe but Guernsey's horse owners have said they are keen to avoid its introduction to the island, as it causes suffering to the animals and is costly for stables.