Guernsey's maximum speed limit 'not appropriate'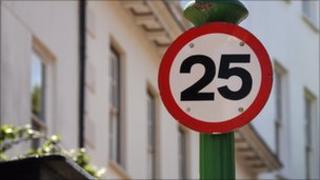 Guernsey's maximum speed limit of 35mph (56km/h) has been deemed inappropriate for the island's lanes and minor roads.
A strategic review by the Environment Department concluded that a lower limit of 20mph (32km/h) would be appropriate.
However it said this had major signing and resource implications. It also claimed there was no widespread speeding problem with existing limits.
Adopting temporary restrictions on the main approaches to schools with standard signing was recommended.
The proposals were published on the States of Guernsey website, along with maps showing the current and proposed speed limits for every road in the island.
In 2006, the States agreed that as part of the island's road transport strategy, the Environment Department should commission a review of speed limits in close consultation with the Home Department, Guernsey Police and other interested organisations.
Representatives of the Environment, Home and Public Services departments put together the proposals following what they said was "extensive research, including the use of several recognised testing and analysis methods".
The review said widespread physical calming measures, such as speed humps, were not desirable and should only be considered where signing did not prove effective.
The Environment Department board agreed that the document should be opened up to public consultation before any final decisions were made on alterations or adjustments to the island's speed limits.
Members of the public, interested organisations and other government departments were invited to contact the department by e-mail.