Guernsey-educated nuclear physicist gets national award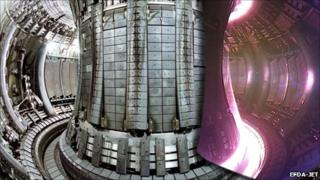 A Guernsey-born scientist has won a prestigious national prize for his research into new energy sources.
Dr Ian Chapman was rewarded for his work on nuclear fusion at the Culham Centre for Fusion Energy in Abingdon.
The former Elizabeth College student presented his work to experts and 100 MPs at an event in the House of Commons, competing with 29 physicists.
His work involved heating fuel to more than 100 million degrees celsius in the hope of creating clean energy.
Dr Chapman said his ability to explain his work was a major factor in his victory.
He said: "A lot of the MPs don't have a science background, so you need to be able to communicate your research to the layman."
After receiving his award, he was keen to highlight the collaborative nature of the work.
"It's really a team exercise," he said. "This is a group of dozens of scientists working together."
Dr Chapman's prize at the Science, Engineering and Technology Student of the Year Awards, known as SET for Britain, included £3,000 in prize money and the Cavendish Medal.
His work centres on trying to find a way to stabilise fuel during fusion, in order to find a clean source of energy.
He said: "Everybody knows about the problems of global warming and producing greenhouse gases but fusion offers an alternative. It's inherently safe."
Dr Chapman explained that heating fuel to the temperatures required for fusion made it very unstable, so it would melt anything it came into contact with. The solution was to ensure there was no contact.
"We levitate it with magnets but still it can tend to be quite unstable and wobble around a bit," he said. "My job is to understand why that fuel wobbles and to try to keep it as still as possible."
Dr Chapman said research into fusion was very expensive, and the next big reactor expected to be ready for use was likely to cost about £10bn.
It is being built in the south of France and should be ready by about 2020.
"This could potentially replace a significant number of the present coal-fired and oil-fired power plants around the world," he said.