Guernsey herd's bull semen sold in USA for first time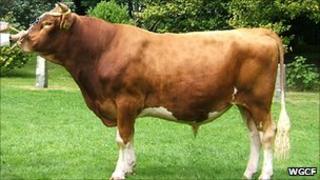 Bull semen from a Guernsey reared animal has been exported to the US for the first time in the breed's history.
Bonamy and Margaret Martel's "Caras Conqueror" has become the first European-based Guernsey-breed bull to reach the US market in this way.
The last Guernsey-US exports were live animals flown out in the 1950s.
Bill Luff, the secretary of the World Guernsey Cattle Federation, said: "We knew our bulls could easily compete. Now the breakthrough has occurred."
The Martels' herd, based at their farm at Les Jaonnets, was described by Mr Luff as "the top production and genetic merit Guernsey herd in the British Isles."
Guernsey-based dairy farmers have been working on a global breeding programme since 1992.
In 2010, Conqueror was sold to a farm in Penzance, Cornwall, at which time he was taken to an artificial insemination stud farm at Dartington in Devon.
The buyers of the semen are Frank and Patti Faria of Golden State Breeders, who have also expressed interest in another bull from Les Jaonnet Farm, Twinkles Troy.
The Guernsey breed is renowned for the creamy quality of the cows' milk, which has led to its being reared in the US, South Africa, Australia and elsewhere.