Guernsey stamps and coin planned for royal wedding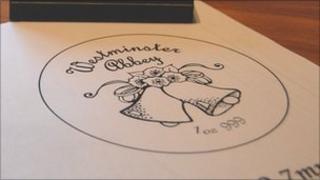 Guernsey stamps and coins have been planned to celebrate the royal wedding of Prince William and Kate Middleton.
Guernsey Post has announced it will design and produce a set of two stamps featuring pictures from the engagement and the marriage of the couple.
In addition, designs have been finalised for a coin to be made by Guernsey silversmith Bruce Russell. The edition will be limited to 250 coins.
Mr Russell said: "We just think it's really nice to celebrate."
The inscription on one side of the coin reads: "Celebrating the marriage of HRH Prince William & Catherine Middleton 29th April 2011".
On the reverse, there is an image of wedding bells, flowers and the words "Westminster Abbey".
The couple announced their engagement on 16 November 2010 at St James Palace.
It has been decided that the day of the wedding will be a public holiday in Guernsey.