Herm cricket venue on schedule with buzzard's help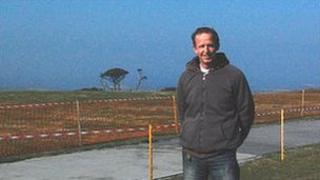 A buzzard has been helping Herm's head gardener prepare the island's first official cricket venue.
A Lord's Taverners charity match has been scheduled for July 2011, for which a field has been prepared on the east-facing, higher part of the island.
Brett Moore said the large bird had proved useful: "I'm lucky enough to have a buzzard living here who scares off all the seagulls and pheasants."
He had been worried the pheasants would stop play, as they dig for grass seed.
Mr Moore said he was confident the new playing surface would be finished in time for the summer event after an enormous amount of work by his team.
"I've been mowing all winter. I've got a little ride-on mower and it takes me six hours."
The venue will have an artificial wicket with a 55m (180ft) boundary all the way around.
Mr Moore said: "I've had to dig down 12in (30cm). We've actually put 32 tonnes of hardcore in and it's gone down like concrete."
The material had to be taken to the island on several trips, as the largest available boat could handle no more than 10 tonnes.
The preparation work was finished on 21 March, ready for the artificial pitch to be inserted.
As well as a suitable playing surface, Mr Moore said the island would have some of the essential amenities expected at a Lord's Taverners event.
"We're going to have a pub marquee, so everyone can come over and have a few drinks."