La Vallette cliff work ends early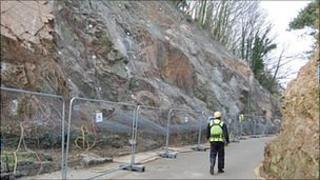 Work to stabilise and net the cliff face at La Vallette in Guernsey has finished ahead of schedule.
The work was completed on Wednesday with the road leading to the bathing pools re-opening on the same day.
Environment Minister Peter Sirett said: "The department is delighted the works have been completed ahead of schedule and La Vallette is open again."
Concerns about the safety of the area were raised in January with work beginning on 21 February.
The works included pinning rock fall netting with 1.5m long steel dowels across 35m of the cliff face and the installation of a section of heavy duty woven steel cable grid to stabilise a large rock flake.
Another fence has been installed at high level to catch any loose material along with a further one at ground level.
Deputy Sirett said: "I would also like to thank the traders - Guernsey Aquarium and La Vallette Military Museum - and the public for their forbearance during the cliff stabilisation works."