Guernsey Airport tops punctuality list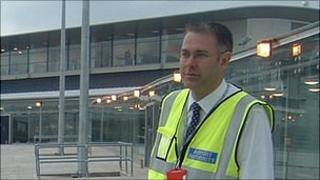 Guernsey Airport has topped a punctuality survey of airports that fly to and from the UK.
The Civil Aviation Authority (CAA) gathered the statistics for the last quarter of 2010 from the top 75 most visited destinations.
Guernsey Airport was third in the same survey for the third quarter of 2010.
This time it took the top spot with 81.7% of its flights deemed to be on time, closely followed by Jersey with 80.6% and the the Isle of Man on 78.5%.
The CAA counts a flight on time if it arrives or leaves early or arrives or leaves within 15 minutes of its scheduled time.
Colin Le Ray, Guernsey Airport's director, said: "We feature in the top five, top 10, almost consistently throughout the year and in all weather conditions.
"This isn't something we strive for - a survey - but something we strive for day after day after day in trying to make our air traffic as efficient as we can, irrespective of where we rank in the rest of the world."
The figures come from 309,000 scheduled flights and 14,000 charter flights into and out of 10 airports; Heathrow, Gatwick, Luton, Stansted, London City, Manchester, Birmingham, Newcastle, Edinburgh and Glasgow.
Overall for the period of October to December, 32% of flights were late, against 24% in the same period in 2009.
Iain Osborne, CAA Group Director for Regulatory Policy, said: "While some of the fall in punctuality can be explained by the terrible weather in November and December, that doesn't explain it all."