New Les Beaucamps High School 'not bigger than planned'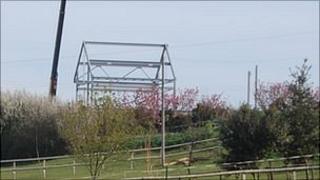 Guernsey's environment minister has denied claims the new Les Beaucamps High School does not resemble the original plans.
Some Castel parishioners have complained about the height of the steel framework put up on the site.
Deputy Peter Sirett said it was the same height as in the plans and the finished school would be something the island could be proud of.
He said: "Once it's clad it's not going to stand out like it does."
Deputy Sirett said: "It's what it is, it's what it's been designed as, it's going to be a superb building when it's finished."