HMS Affray submarine disaster to be marked off Alderney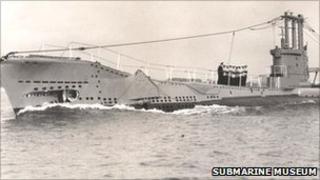 Relatives of those who died when a submarine sank off Alderney's coast are planning to pay their respects on the 60th anniversary of the disaster.
HMS Affray set off on 16 April 1951 for a training exercise in the English Channel, but got into difficulty and all 75 people on board died.
A poppy wreath is due to be placed out to sea on the exact spot where the wreck was found on 17 April.
A plaque, engraved with the crew's names, may also be put up in Alderney.
Martin Allen, who's father Herbert is the last living member of the submarine's crew, said it had never been confirmed if the vessel went down on the 16 or 17 of April.
Herbert Allen, who was transferred from the ship a day before the tragedy, said he wanted to keep the memory of those who lost their lives alive by holding the commemorative service.