Royal wedding ceremony decorated with Guernsey ivy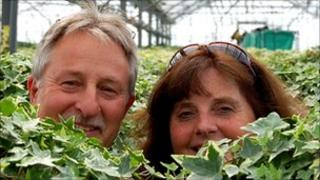 The floral display at the wedding of the Duke and Duchess of Cambridge featured ivy grown in Guernsey.
The locally-grown plants were supplied by Mark and Sue Seabrook and formed part of the bridal procession at the ceremony in Westminster Abbey.
Mrs Seabrook said the chosen Pittsburgh ivy, which was also used in the bridesmaids' head dresses, was "quite a delicate green with a pointed leaf".
The couple previously provided ivy for David and Victoria Beckham's wedding.
The Seabrooks received the commission via their agent in London, whose wife is a buyer for the royal florist.
Mrs Seabrook said she and her husband had narrowed their expertise to this one type of plant.
"Mark's been growing since he was 15 and for the last 12 years we've been specialising in ivy," she said.
"It is exciting," she said.
"I love weddings."