Royal wedding gives some on Guernsey a peaceful day out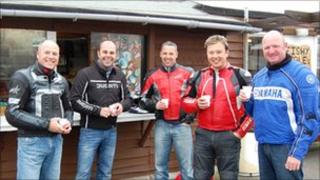 The keenly anticipated wedding of the Duke and Duchess of Cambridge gave some islanders a chance to enjoy some space.
While an estimated global audience of two billion watched television coverage of the ceremony, bikers, fishermen and visitors took to the empty streets.
Aaron Simpson joined four friends for a motorcycle ride along Guernsey's coast.
He said: "It's a weigh-up between sitting in front of the TV and watching the wedding ceremony or clear roads. It's not much of a competition really."
Fellow biker John Tardivel said he was glad to get out of the house, where the rest of his family was watching the television.
He said: "It's just nice to get out. I'll catch the highlights later."
Peter Wicks and Ben Abbott spent the morning fishing at the end of the Castle Emplacement.
Mr Wicks said: "I've got nothing against Wills or Kate - best of luck to them - but it's not my cup of tea.
"I'd rather do a bit of fishing. We've got a longnose (garfish) so far."
Mr Abbott said he had not paid much attention to the wedding.
"It's been a bit much, really," he said.
David Britch, a UK resident who was taking a walk while paying a visit to the island, said: "I'm not anti-royal but it just seems irrelevant to my life. It has no meaning to me, so I don't feel the need to watch it."
The States of Guernsey decided at their meeting in January that the day of the wedding should be a public holiday in the island.