Guernsey Police name cyclist who died avoiding collision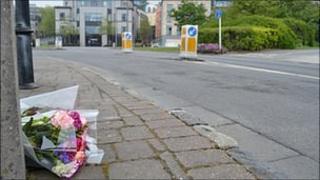 Guernsey Police have named a cyclist who died trying to avoid a crash - and appealed for witnesses to come forward.
Police said Ian Davison, 37, was involved in the incident at about 0220 BST at the entrance to the North Beach Car Park, in St Peter Port.
The self employed plumber, who lived in St Sampson, was taken to the Princess Elizabeth Hospital, where he died.
Police asked anyone who saw the man, who was riding a green and white bike, to contact them.
Traffic Sgt John Tostevin said Mr Davison was travelling towards Salerie Corner when the incident happened near the start of the cycle path heading north.
No helmet
He said: "As a result of him taking evasive action on entering the road he has subsequently died of his injuries.
"He was cycling across the road from the toilets to the cycle track and there was a vehicle coming on to the North Beach.
"The gentleman thought there was going to be a collision so he braked hard, came off his bike and sustained some serious head injuries.
"He had lights, the bike was in good condition, but tragically he wasn't wearing a cycle helmet."
Sgt Tostevin said: "We are asking for anybody who saw the gentleman on his bike, which is quite a distinctive green and white mountain bike.
"He is thought to have left the bike locked up at the pollet and then cycled across to where the collision occurred.
"So if anybody saw a gentleman on that distinctive bike at that time then please feel free to give us a call."