Torrey Canyon oil clear-up praised in documentary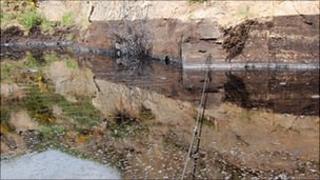 The way in which the States of Guernsey is cleaning up oil from the Torrey Canyon tanker disaster is due to feature in a BBC TV documentary.
The Public Services Department is using a biological treatment on the water in a quarry, where the oil washed up on the island's shore in 1967 was stored.
The success of the bioremediation process is set to feature in the first part of the Britain's Secret Seas.
It is due to be broadcast at 2000 BST on Sunday.
The Torrey Canyon tanker spilt 100,000 tonnes of crude oil into the sea after it struck the UK coast between the Isles of Scilly and Land's End.