Rough seas delay raising of Grosse Rocque flag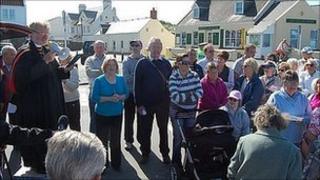 Rough seas have delayed the annual tradition of raising a new flag on Grosse Rocque, off Cobo, on Liberation Day.
About 100 people gathered for the blessing of a Guernsey flag by the Rev Claes Selim.
The raising will now take place when conditions are calmer.
The annual flag raising pre-dates World War II but its raising at the end of the occupation meant it took on a deeper significance for islanders.
Before 1939 the Union Flag was raised on the August Bank Holiday to stand in the full brunt of Guernsey's prevailing south-westerly wind.
Banned during the occupation it was restarted in 1945 by Fred Martel and has continued since on 9 May, Liberation Day.
Since 1948 the flag has been blessed in a simple service on the beach and since 1986, when the island got its own flag, the Guernsey flag has flown.