Liberation Day fireworks spark complaints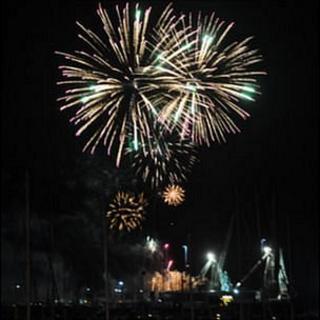 Complaints have been made to organisers of the Liberation Day in Guernsey after the event's fireworks display began 15 minutes earlier than scheduled.
The fireworks, scheduled for 2215 BST on Monday, went off in St Peter Port at about 2200 BST.
Others complained at the lack of sound on the big screen on the Albert Pier, which showed a service of thanksgiving from the Town Church.
The Guernsey Event Company said they would examine both issues.
Alex Bridle, from the company, said: "We'll re-look at all the timings, re-look at the capability of stalling the fireworks if we possibly can for next year.
"We need to look at, if we can, getting the whole of the church service, complete with sound, broadcast on the pier.
"But we'll have to look at noise conflict between that and what's going on in the church."