Guernsey buses to run to revised schedule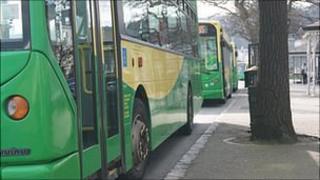 A revised bus schedule is to be introduced in Guernsey from Monday due to continuing mechanical problems which have disrupted services.
The Environment Department and Island Coachways said full details would follow, but that the only routes 1, 1A, 7 and 7A were likely to be affected.
They said normal service would resume during the school summer holidays.
Hannah Beacom, Island Coachways' managing director, thanked passengers for their continued patience.
'Difficult times'
She said: "I understand that reduced services at any time are frustrating and [we] are doing everything possible to minimise disruption for the travelling public."
The cancellations of services, which started on Wednesday, are expected to continue this week with details published daily at about 0730 BST on the Island Coachways website.
The Environment Department said: "Once the revised timetable has been adopted, the department would hope to be in a position not to cancel further routes as has been the case for the last week or so but the frequency on some routes will be reduced."
Environment Minister Peter Sirett said: "We are working closely with Island Coachways to ensure that the impact of maintenance work on passengers is minimised.
"We are also exploring what options exist to temporarily increase the size of the fleet to get us through these difficult times."