Domesday returns to the Bailiwick of Guernsey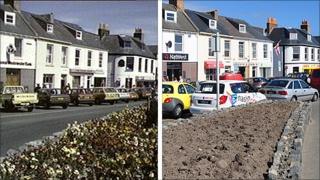 In 1986 the BBC launched an ambitious project to record a snapshot of everyday life across the British Isles.
The scale of the project was unprecedented and the aim to give the public easy access to the results became too expensive.
Twenty-five years on Domesday Reloaded has made the project easily available for the first time.
More than 150 people in the Bailiwick contributed 33 images and more than 200 written entries to the project.
Domesday machine
They recorded the oldest pillar box still in use in the British Isles, the work to reclaim what became North Beach, the only fishing trawler operating out of Alderney and a day in the life of nine-year-old Oliver Coquelin.
The written records include personal accounts from Guernsey school children and the view of life on Herm from the children among its 40 residents.
Life on Sark was chronicled by the island's school children and members of the Sixth Guernsey (Elizabeth College) Scouts.
The islands and the rest of the British Isles were divided into 3km by 4km rectangles, called D-blocks - standing for Domesday blocks.
The project used the best digital technology available in 1986 with the aim that the data, which could be read on 'Domesday machines' (BBC Micro computers), would be made available to every British school, library and university.
With nothing like the project attempted before the costs spiralled and the computer required became too expensive for schools and libraries to buy with the records becoming inaccessible to most people.
With Domesday Reloaded the BBC has used the same D-block system to make the images and records available online.
Members of the public have been invited to visit the Domesday Reloaded website or email domesday@bbc.co.uk to help create a picture of the British Isles in 2011.
This time all the material will be stored in the National Archives at Kew for future generations.
Exploring the images and articles from the original project will highlight what has changed and has stayed the same around the islands.