Mental health charity launches workplace project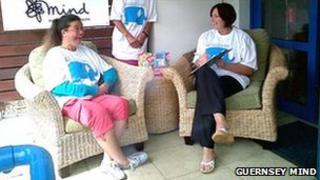 A Guernsey charity has launched a two-year project to improve mental well-being in the workplace.
Guernsey Mind said it hoped to encourage five large and two small employers to adopt mental health policies by April 2013.
Training will be offered to HR staff to help them avoid discrimination.
Emily Litten, a spokeswoman for the charity, said: "We know that 33% of invalidity benefit claims in 2010 were down to mental health related issues."
As well as making employers more aware of the mental health of their staff, the project aims to develop a self-help, training and support network for individuals trying to get back into work.
Ms Litten said: "We're not talking about discriminating in favour of people with mental health issues but trying to ensure they can work in a more equal way."
Street sofa
Guernsey Mind is affiliated to the national charity Mind, which has made mental health in the working environment its main focus for "Mind Week" from 14 May.
As part of its Taking Care of Business campaign, the charity has decided to take a sofa into the streets of St Peter Port during lunchtimes to invite people to sit down for a chat about any work-related stress they may face.
Venues include Market Square, the Weybridge Clock Tower and outside the Town Church.
Maggie Costen, the chair of Guernsey Mind, said: "Everyone has their stressful days at work but if your job is causing you distress over a sustained period of time, this can have a very damaging effect on your mental health.
"We'll have leaflets and postcards for people to take away and share with their colleagues, friends and family."