Guernsey Airport parking problems delay national papers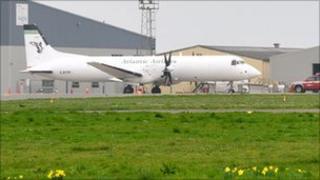 National newspaper deliveries in Guernsey have been delayed for three consecutive days because the plane bringing them had no room to park.
Technical problems with an Aurigny aircraft meant all the stands were occupied at the time when the papers would normally arrive.
This led to delays of 45 minutes on Tuesday, Wednesday and Thursday.
Colin Le Ray, Guernsey Airport's director, said with the airlines' help the space could be better used.
Bryan Lowe, the joint managing director of Le Gallez newspaper wholesalers, said he was frustrated by the delays.
"It's making it difficult," he said. "Newspaper deliveries are being pushed back into the island's rush hour traffic."
Malcolm Hart, Aurigny's managing director, said it was "simply because of a lack of stands at the airport".
He said: "Each evening one of our ATR-72s has to taxi all the way down to my hangar at Anglo Normandy and taxi all the way back the next morning."
Mr Hart said the plane that had been chartered to replace the one undergoing repairs had been unable to do so.
He said: "So it's been taking up a stand and consequently the newspapers haven't been able to land until the first departures of the morning."
Colin Le Ray, Guernsey Airport's director, said: "The Airport Terminal was designed to support nose-in push-back aircraft parking which is more space efficient than the current arrangement where aircraft self manoeuvre onto and off stand.
"The airlines resisted this change in parking arrangements when the terminal was opened in 2004.
"They have suffered some disruption since as a result of the current 'self-manoeuvring' parking - which makes far less efficient use of our already scarce aircraft parking."