Griffins Grotto 'not to re-open'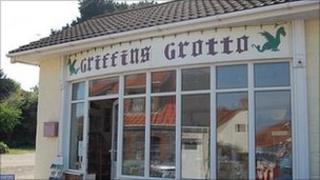 The owners of a Guernsey gift shop, which was on land intended for light industrial use, have ended a long-running fight to stay open.
Griffins Grotto had been in the building for several years before concerns were raised.
The family who own the shop had decided to undertake some manufacturing on site to get around the issue.
But co-owner Tanya Waterman said this had now become unworkable and they had made the difficult decision to close.
The shop has been battling with the Environment Department ever since an application to change the premises from light industry to retail was refused.
During their campaign to get this decision re-examined and changed, more than 1,600 islanders signed a supporting petition.
While researching the idea of manufacturing on the site the owners found the land use applied to the main activity of the site, which would have remained retail.
Ms Waterman said the family had now decided "enough was enough".