Channel Islands air search plane hunts yacht teenagers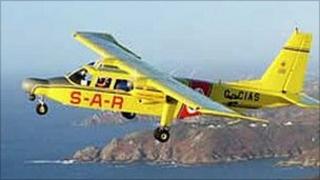 The Channel Islands Air Search plane spent nearly five hours looking for two French teenagers.
A Hobie catamaran with two 15-year-olds on board had gone missing from a small port south of Carteret.
Lion's Pride was scrambled from Guernsey at 0110 BST on Sunday as part of a joint operation with a French naval helicopter.
The boat and crew were found on rocks near a beach at St Germain on the French coast at 0540 BST.
The crew needed medical help after the rescue, but there is no news on their conditions.
The Channel Islands plane scoured about 150 sq miles of sea and had to return to Guernsey to refuel before it was stood down at 0550 BST.