Guernsey household recycling almost at 47%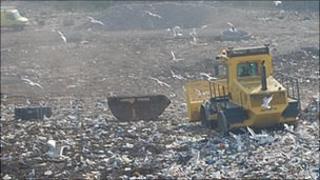 Almost 47% of Guernsey's household waste was recycled in the first quarter of this year, according to the latest figures released by the States.
The figures for January to March 2011 show 8,534 tonnes or 46.6% of waste was recycled, compared to an overall rate of 45.8% for 2010.
The figure is more than 3% below the States set recycling target of 50%.
The reclamation site at Longue Hougue was also busier in the same period with more than 2,500 items being taken away.
Public Services Deputy Minister Scott Ogier said: "These figures are very positive and we hope that we continue to see improvements throughout the year.
"We expect recycling of plastics in particular to grow. From January islanders have been able to recycle plastic types five and six along with the usual one and two.
"We hope that as people adapt their recycling habits these figures will increase."
The life of the Mont Cuet landfill, based on the average rate of fill for the previous five years, has now been estimated to be the end of 2022.