La Mare de Carteret schools evacuated over hoax threat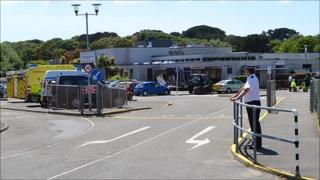 Investigations are under way after a hoax threat was made about a suspicious device at two Guernsey schools.
About 770 pupils and 100 staff at La Mare de Carteret High and Primary Schools were evacuated after a call was made about a "threatening device".
After assembling on the schools' playing fields about 0930 BST pupils were sent home and the schools closed about 1130 BST.
An extensive search by police found nothing suspicious in either school.
The schools were kept open later than normal to allow pupils to return and collect their belongings.
Ken Wheeler, head teacher at La Mare de Carteret High School, praised the actions of staff and students in responding to the potential threat.
The early closure of the high school led to the cancellation of its sports day.