Guernsey to continue using foghorns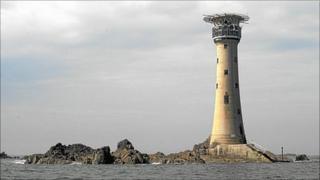 Guernsey Harbour Authority will not be turning off the foghorns it runs, despite the company that runs the national coastal stations doing so.
Trinity House has already stopped two of its four horns in the Bailiwick and is reviewing the future of the others.
Capt Peter Gill, Guernsey harbour master, said the three signals run by the island would continue to operate.
He said: "I believe fog signals are a useful aid to navigation, particularly for smaller vessels."
Trinity House decided to end the use of the foghorns at Alderney's Quesnard Lighthouse and Les Casquets Lighthouse during an ongoing review of all its British Isles facilities.
Mr Gill said it followed a decision by the International Association of Lighthouse Authorities that as a consequence of the improvements in navigational aids the signals were no longer needed.
He said: "When these lighthouses were put in place there was no such thing as electronic aids to navigation.
"They've come to the conclusion that fog signals are no longer an appropriate aid to navigation, but they can and should be used to identify isolated dangers such as oil platforms offshore and they intend to continue using them for that purpose."
The future of the signals at the lighthouses at Point Robert in Sark and Les Hanois, off Guernsey's west coast, has yet to be decided by the review.
Mr Gill said he, the Alderney harbour master and large sections of the islands' boating community were continuing to push for their retention.
Of the foghorns controlled by Guernsey he said: "We have no intention of removing the ones at the Platte Fougere, St Martin's Point and at the town harbour, partly because the large commercial craft that use those channels do pass within the natural range of the fog signal anyway."