Guernsey shellfish industry 'threatened by rising costs'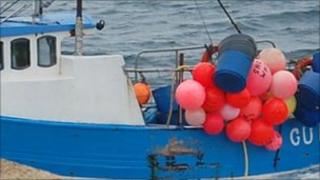 Guernsey's senior Sea Fisheries officer has expressed concern over the future of the island's shellfish industry.
Chris Morris said increasing costs were damaging its economic viability.
"The cost of operating a fishing boat now is very, very expensive and the base-price for crab and lobster has stayed static," he said.
However, Mr Morris said stocks of shellfish in the island's waters were sufficiently healthy to avoid introducing new restrictions.
His comments follow a move in the Isle of Man to bring in additional protection for its shellfish, including making sure all lobster pots can allow undersized catch to escape.
Mr Morris said the biggest threat facing Guernsey's fleet was financial sustainability rather than a lack of seafood in the water.
"It is a concern and it's not something that we as a government can particularly control," he said.