Guernsey minister 'regrets' Condor ferry problems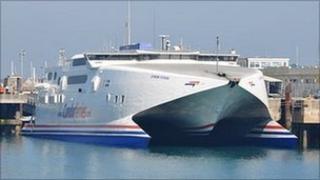 Recent disruptions to sailings of Condor Ferries to and from Guernsey are "regrettable", the commerce and employment minister says.
A number of Condor Ferries sailings have been cancelled or delayed in recent weeks due to technical problems.
Minister Carla McNulty Bauer said her department's priority was to help the service return to normal.
Condor Ferries said that the major issues had been dealt with.
Concerns had been raised by island businesses and tourism officials that ongoing problems with the ferries between Guernsey, France and the UK would "significantly damage" tourism.