Guernsey Post reduces routes in sorting office changes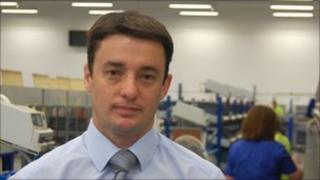 The number of postal rounds in Guernsey has been reduced by 14% as part of a restructuring of Guernsey Post's sorting office operations.
Its chief executive, Boley Smillie, said the reduction from 69 to 59 routes was the first of many changes.
He said: "Significant changes must be made to our business in order for us to remain as efficient and as competitive as we possibly can."
The Communication Workers Union was consulted before the changes were made.
Colin Gontier, its branch secretary, said: "By introducing these changes, Guernsey Post is taking an important step to ensuring the long term success of its business."
It is expected that some customers will experience changes to their delivery times but the company says it hopes to complete all rounds each day by 1300 BST.