Rare European Moray eel discovered in Guernsey harbour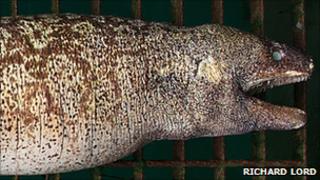 A rare species of eel has been discovered beneath a ferry ramp in Guernsey's St Peter Port harbour.
The European Moray eel measured 1.05m (3ft) and was found dead by one of the harbour staff on Friday evening.
Richard Lord, a resident marine biologist, said only 20 had ever been caught in northern Europe and it may have drifted to the island as larvae.
The last recorded discovery in Guernsey waters of this type of eel, known as muraena helena, was in 1996.
Mr Lord said: "There were three reported in the 19th Century... and altogether we've recorded 20 between the UK, the English Channel and Ireland."
They are usually native to the Mediterranean and Caribbean seas and in areas around north-western Africa, such as the Canary Islands.
Mr Lord said Bailiwick waters were getting warmer and non-native species were being found more regularly.
"Since 1980 the sea temperature has risen by about one degree Celsius," he said.
He cited recent observations of white bream and two-banded bream in Bailiwick waters as evidence of "range extension".
Mr Lord appealed to islanders to report any sightings of rare species, which he logs on his website, Sustainable Guernsey.
"We are seeing new species," he said, "and it's important to record them so we can see how are seas are changing over time."