Guernsey's St Peter Port has 'litter problem'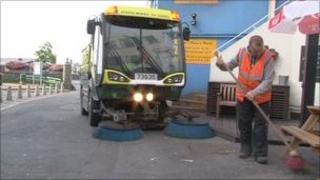 The Junior Constable of St Peter Port has said that rubbish has become an increasing problem in the town.
Dennis Le Moignan is backing calls for more to be done to combat the problem in Guernsey.
Fly-tipping and casual dropping of rubbish have been identified as being a particular problem in the town centre.
The General Manager of States works, Nigel Dorey, said a prosecution for littering would send the right message to the public.
Mr Dorey said litter was a considerable challenge across the island and thinks a prosecution for a littering offence would be the first of its kind in Guernsey.
He explained that takeaway containers and cigarette butts cause a huge problem for States Works.
Rubbish over road
He said: "Island-wide, the collection of refuse is also causing issues, especially if the bags are put out too early.
"Seagulls and animals come along and pick away at the bags and you end up with rubbish all over the road."
Guernsey's crime reduction adviser Andy Goodall said there had to be a sufficient body of evidence to secure a prosecution.
He said: "Quite often it's one person's word against another's. If we have the evidence, a file will be submitted for consideration of prosecution."
Mr Le Moignan said plans were in motion for the first prosecution for littering offences.
He told the BBC: "We've got a beautiful island and visitors walking along and what on earth do they think? It looks as though we don't care.
"We do - we do our job in collecting it and we have the States Works coming everyday, and it costs money."