Guernsey butter shortage 'due to exports'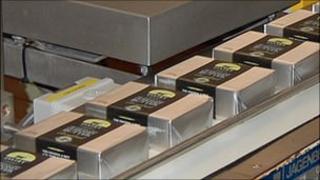 A shortage of Guernsey butter is being caused by too much being exported, according to one of the island's biggest food wholesalers.
Grant Le Tissier, of Manor Farm Foods, said the Guernsey Dairy's policy of selling in bulk to Waitrose meant he had to import supplies from Jersey.
The dairy said strong demand for salted butter, both locally and from Waitrose UK, had caused "supply difficulties".
It added that it only had so much cream that it could make butter with.
Mr Le Tissier said importing Jersey butter meant customers were paying more for the product.
He said local consumers and visitors were being denied access to genuine Guernsey produce.
'Pedigree herds'
Eamonn Fenlon, Jersey Dairy's managing director, said they had sent two one tonne pallets of butter to a wholesaler in the island in the last two weeks.
He said Guernsey Dairy could find it hard to re-stock quickly, because unlike UK dairies they could not just buy up butter cream.
Mr Fenlon said: "Both islands have to rely on the milk that comes from our cows and we both have pedigree herds and we can only use the milk from those cows in our dairies.
"So we can't go to the commodity market when we've got a shortage either of skimmed cream or butter, we've got to make do with what we have."
A spokesperson fro Waitrose said: "There has been no change to our buying policy - we have long championed high quality Guernsey butter in our shops across the UK, and sales have been steadily growing for some time.
"Because of strong sales the Guernsey Dairy took the decision last year to focus on maintaining continuity of supply on retail packs of butter rather than larger packs of catering butter.
"However, their Guernsey butter is still available through local milk distributors and Waitrose stores on the island."