French boat strands outside Guernsey's QEII marina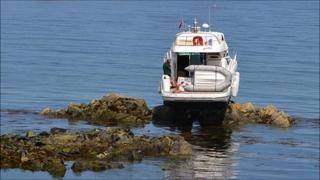 A French boat was freed by the rising tide after it became stranded on rocks just outside Guernsey's Queen Elizabeth II (QEII) marina.
The 13m (44ft) long Prestige 42 hit the rocks and became fixed in place at about 1300 BST on Monday.
Captain Peter Gill, Guernsey's harbour master, said the harbour authorities worked with the boat's two crew to free the boat when the tide rose again.
After it was freed, at about 1745 BST, it returned to the harbour.