Guernsey coastal clean up returns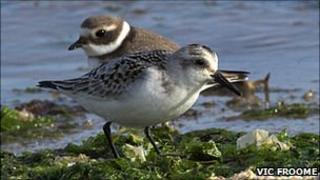 Islanders are being asked to help marine life by taking part in a mass clean up of Guernsey's beaches.
Deputy Peter Sirett, minister of the Environment Department, said a lot of marine litter had been washed up on the island.
He said the department had been "delighted" with the response from islanders during last year's Coastal Clean Up campaign.
The event will take place on 16-17 and 23-24 July.
The Environment Department has asked people to focus on plastic rubbish on the beaches as plastics take an estimated 450-1,000 years to biodegrade.
The department said people could choose to clean beaches or coastal grasslands and all that was needed was sturdy gloves and plastic sacks.
It said the clean up ahead of the school summer holidays would benefit families and visitors, but would also help provide a better habitat for Guernsey's sea birds, particularly waders such as oyster catchers, dunlin, knot, sanderling and curlew.
The department said local ornithologists reported regularly finding nests that include fishing net and plastic cord and bird pellets showing evidence that plastic items have been eaten by sea birds.
Deputy Sirett said: "Every tide will bring plastic bottles and bags, pieces of polystyrene and fishing litter to our shores, but we'd also remind everyone going to the beach to take their litter home or use the coastal litter bins."