Guernsey firefighters train for fires on boats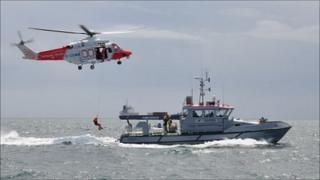 Guernsey's firefighters and paramedics have been training on how to transfer from helicopters to boats.
Those who took part are part of the Maritime Incident Response Group, which contains fires on boats until they can be fought on land.
The 19 firefighters and two paramedics were winched to and from the Sea Fisheries vessel the Leopardess by the Portland coastguard helicopter.
Volunteers for the group have to renew their training every two years.