Minister happy at Mike Hadley's return to health board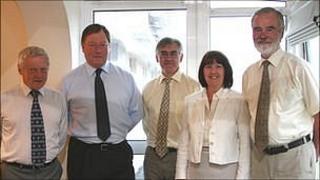 Guernsey's Health Minister said he was delighted to have a member who had resigned amid controversy back on his board
Deputy Mike Hadley was re-elected to the board last week, having stood down in 2008 after admitting breaching a convention about speaking to the media.
Deputy Hadley was elected ahead of a nominee nominated by the department.
However, Deputy Hunter Adam said he had encouraged his colleague not to resign and they had never fallen out.
He said Deputy Hadley had a great interest in health and social services issues and they could work very easily together.
Deputy Adam said: "He's got an inquisitive mind, he can also look at strategies and policies because he has been on the edge of the medical services and actually was on the health board in England before he came across to Guernsey.
"So I personally have no problems with having him back on board... he'll put his effort into it and he'll work hard."