Guernsey Donkey Parade statues removed after vandalism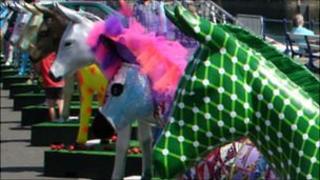 Decorated fibreglass donkeys on display around Guernsey are being removed after a vandal attack but could be sited in more secure locations.
A donkey at Admiral Park was ripped from its plinth and abandoned on Saturday evening.
The Guernsey Donkey Parade aimed to raise money for the island's Adult Literacy Project.
Trevor Wakefield, the project's director, said he was appalled by the damage to the donkey.
He said that in light of the vandalism, which destroyed the statue's feet, all the donkeys positioned in public places would be removed to prevent further attacks.
Mr Wakefield said he was appealing for anyone who could house a statue in a secure location to get in touch.
Guernsey Police said following a formal complaint made on Monday they were investigating the incident.
The Crime Prevention Panel has put forward a £200 reward for any information relating to the incident that leads to a conviction.