Guernsey's Castle bridge closed to traffic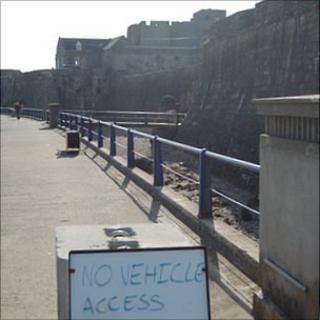 Access to the bridge between Castle Emplacement and Castle Cornet has been restricted while engineers carry out a detailed inspection of the structure.
A routine structural inspection revealed some deterioration in the supports beneath the bridge.
As a temporary precaution, it has been closed to delivery vehicles and cars while a more detailed investigation is carried out.
Pedestrian access to the castle remains open during the work.
Engineers are working with Castle Cornet staff to review access requirements for essential services for the site.
Public parking on the pier will be unaffected by the work.
Captain Peter Gill, Guernsey's harbour master, said the work was an inconvenience to the castle, but was essential for safety.
He said: "There are a number of event coming up shortly [at the castle] and there is a fair amount of material - stages, sets and such like to get in and out of there.
"It is a nuisance for them, but to be honest public safety comes first."
The bridge, which is the only land connection between the castle and the island, was built in 1950.