Guernsey football fan offers Community Shield tickets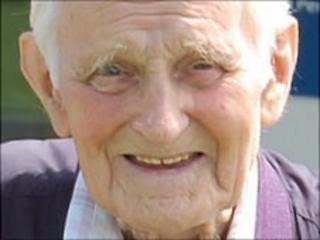 A Guernsey football fan wants fellow supporters to join him at the Community Shield match and at the judging of an award he has been nominated for.
Lewis Laine, 91, works daily at Blanche Pierre Lane for St Martin's FC and in the past season received an area and a national award from the FA.
He has been nominated for a workforce award by match sponsor McDonald's.
Mr Laine said he wanted to pass tickets on to friends and St Martin's supporters for the final on 7 August.
Graham Skuse, St Martin's FC club secretary, said: "As part of his award, Lewis will be receiving an allocation of complimentary tickets and, as his is way, he would like to ensure that others share in his reward.
"Everyone at St Martin's football club realises and greatly admires the tremendous amount of work that Lewis puts into the club and we all wish him every success."
Mr Laine works on a daily basis at the ground doing jobs such as emptying bins, stocking the bar and cleaning the club.
In the playing season, he also pays match officials, washes the kit and cleans the changing rooms.
He said: "I can't believe it's happening, that they should choose me is wonderful. I'm looking forward to it very much."
Those interested in joining Mr Laine for the fixture at Wembley Stadium between Manchester City and Manchester United have been asked to contact club secretary Graham Skuse.
Members of the committee and Mr Laine will then decide on the allocation of the tickets.
The judging and announcement of the workforce award takes place after the match.