Guernsey L'Ancresse Race Day faces cancellation call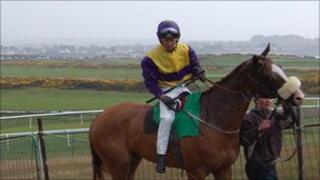 An animal welfare group has called for an end to the annual Guernsey race day.
Horse Welfare Guernsey is planning a public meeting to explain its view the Guernsey venue at L'Ancresse is unsuitable and harmful to the animals.
Peter Ozanne, a founder member, said: "We don't have a proper race course here. We have common land. It's not suitable and is potentially dangerous."
Jim Jamouneau, the Guernsey Race Club president, said the course was subject to the same safety checks as in the UK.
He said: "The course gets inspected, prior to the racing, by the stewards of the Jockey Club.
"If they were unhappy with the state of the course, they would not allow the races to take place."
The club's 2011 race meeting was halted after two of its five scheduled races because heavy rain was deemed to have made conditions unsuitable.
The Jersey horse Crianza was later put down after receiving an injury to its leg.
'Tragic accidents happen'
Horse Welfare Guernsey was set up in 2010 and has worked with Animal Aid UK, which will be sending a consultant to speak at its meeting, the date of which has yet to be set.
Mr Ozanne said: "The race industry would have you believe it's a good day out.
"The truth behind the scenes is, in my opinion and Animal Aid's opinion, horrific."
Mr Jamouneau defended the treatment of horses at the club's annual event, saying it enjoyed the support of the Guernsey Society for the Prevention of Cruelty to Animals (GSPCA).
GSPCA welfare officer Lorna Prince said: "Although the safety of the horses is a contentious issue, we have faith in both the police and the States veterinary officer, who are present during the event.
"If either felt there was any issue of unjustified danger or cruelty, they would have been in touch with the GSPCA. The L'Ancresse Race Day is conducted in an extremely professional manner."
Ms Prince said the GSPCA's policy on horse racing was in line with the RSPCA's in the UK, which sought to minimise incidents which led to the death of any animals.
"However, tragic accidents do happen," she said.