Space shuttle Atlantis launch was 'astonishing'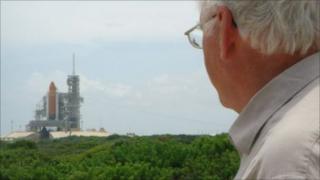 "Spectacular" was how a Guernseyman described watching the launch of the space shuttle Atlantis from Cape Canaveral on Friday.
David Le Conte, who worked for Nasa on the space programme in the 1960s, was one of thousands watching the launch from just a few miles away.
He said: "I have seen many launches in the past but never this close and never a shuttle one.
"The sight was quite astonishing and will live with me forever."
Large screen
Mr Le Conte was one of thousands watching from several miles from the launch sight along with a million people watching along the east coast of Florida.
He said: "There was quite a feeling of camaraderie among those who were watching it.
"As the time for launch approached of course then people got more and more excited, we had a large screen so we could see commentary of what was going on.
"Then the countdown came and we watched very carefully for the launch, but of course there was a couple of minutes of delay... but eventually the shuttle did launch and we watched it rise up.
"What really struck me was the flame coming out of it - it was tremendous and extremely bright - it was a very majestic stately sight, powering up towards the clouds.
"There was low cloud there so after 30-40 seconds the shuttle disappeared into the cloud and then we got the sound as we were a few miles away because of safety reasons.
'Farther reaches'
"It is one of the most spectacular sights in the world I would think and this is the last chance anybody will ever have to see one of these launches."
He said of his three years working for Nasa: "I was based south of the cape tracking satellites, photographing them and photographing launches, but that was from 100 miles away and so this was really exciting to see one close up and to share the experience with so many people."
He said of the future of space flight: "There's nothing more exciting then sending man right out into the farther reaches of space and particularly to our neighbours in the solar system."