Bailiwick Challenge walk funds island's 19th paramedic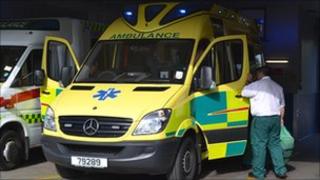 Guernsey is to have an additional paramedic after a group of charity walkers raised £21,500 for St John Ambulance and Rescue.
Ten walkers, including deputy bailiff Richard Collas, took on a 69.5-mile (112km) route in Guernsey, Alderney, Sark and Herm on 20 and 21 May.
An anonymous donor matched their fundraising efforts, leading to a total of £43,000, of which St John got half.
The remainder was split evenly between four other Guernsey charities.
Cheques for £5,375 were handed to the Guernsey Disability Alliance, the Guernsey Sports Commission, Help a Guernsey Child and the Guernsey Arts Commission at a ceremony at the Bailiff's Chambers on Monday.
'Huge difference'
John Beausire, from St John Ambulance and Rescue, said the money would be used to train a new paramedic, which would bring the total in Guernsey to 19.
"Guernsey's paramedics have always been funded by public donation ever since they were introduced," he said.
"The misconception is that when you see an ambulance out there on the roads, there are paramedics on board but that is not the case."
Mr Beausire said the addition of another paramedic would enable full, round-the-clock cover in the island.
"It's going to make a huge difference because it's a huge amount of money," he said.
"We never expected, when we were approached by these people who were going to do the walk, to have such a sum of money available to us in such a short period of time."
The walkers included the chairman of the Guernsey Sports Commission, Stuart Falla, John Le Page of St John Ambulance and Rescue and local singer and anti-knife crime campaigner Chris Dean.