St Martin 'may lose recycling banks'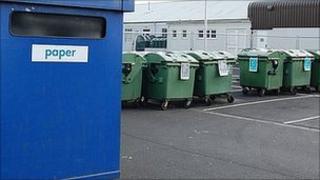 A Guernsey parish will lose its recycling centre if a new permanent home can not be found, the States recycling officer has said.
Planning permission for a new temporary site in Burnt Lane was refused due to concerns over the traffic in the narrow lanes.
Tina Norman-Ross said: "We are running out of options and we don't want to lose a site in St Martin's."
The banks are currently being housed on the St Martin's Garage site.
Mrs Norman-Ross said the site was "very successful and popular".
She thanked the owners Comprop for allowing the site to be used until at least the end of September, with the agreement to be renewed on a monthly basis after then.
Mrs Norman-Ross said discussions were continuing with planners and land owners over potential sites for a permanent home for the centre.
The recycling facilities have had a number of temporary homes since they were first removed from Manor Stores, at the end of August 2010.